Team Damian Up-Date: 555 Challenge
---
Wednesday, 27 May 2020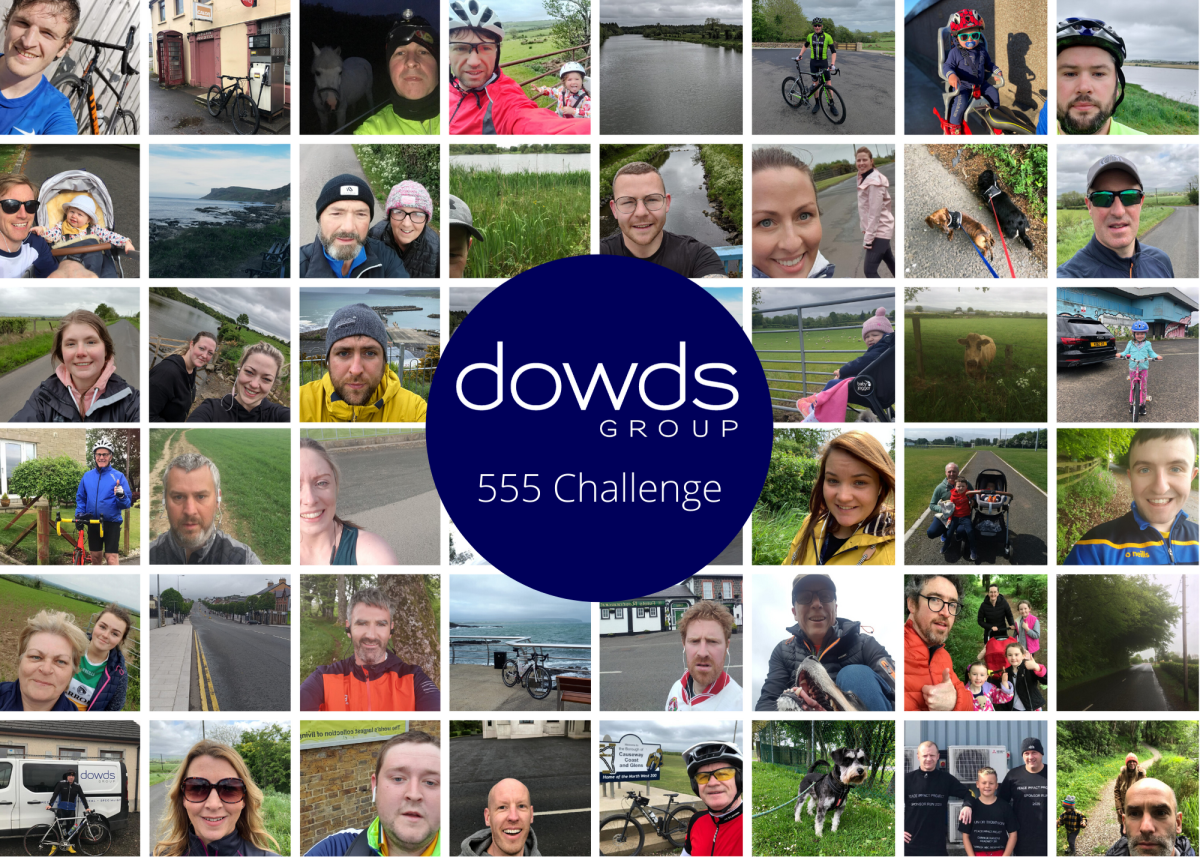 Séan Kelly, one of our Northern Ireland electricians who lives in London, kicked started the miles for Team Damian with a 6am early morning run on Wednesday morning. He was not the only team member to clock miles on his way to work with Barry McAleese cycling his way to work at our University of Ulster site in Belfast. Team captain Damian also clocked some miles before work on his Wattbike, however it wasn't long before the captains started complaining and a new rule was enforced; all miles had to be tarmac miles, no static cycling or running equipment, not even a ride on lawn mower!
Wednesday evening saw the warm up round for George Young, Malachy Molloy, Oran Watson, Johnny Wallace and Gareth Evans (London based teammate) walking and running up a further 24.2 miles for their team. Oran Watson was seen walking the roads of Dunloy, passing a member of an opposing team four times. You would have thought there was a race to the finish, trying to clock as many miles as they could!
The cyclists also kicked off on Wednesday evening with Gavin Scullion, Julian McCamphill, Conor Higgins, Colm McAllister, Rory Quigg and Kieran McWilliams stacking up an impressive 145 miles of the 333 miles on day one. If we had not have put a cap of 333 miles on the cycling, Team Damian would have been finished on the Thursday. All team members continued to put in their shift and momentum continued over Thursday and Friday with the addition of a new member, Ian Craig who helped with the foot miles.
With Friday's update released, to Team Damian's delight, they were in pole position, 58.55 miles ahead of Team Maura who were in second place. The results showed that their lead was only due to their cycling miles and revealed an Achilles heel that they had the least foot miles. The race was wide open again and Team Damian needed to come up with a good foot plan. Gavin and Damian took to the road on Saturday morning to polish off the remaining cycle miles, with a few of the other guys heading out for walks and runs – there were a few long faced selfies sent in to the team WhatsApp of the guys standing outside their local pub. When all calculations were done on Saturday evening, Team Damian still needed 64 foot miles to cross the finish line and with that the alerts started that there was a possibility of some of the other teams finishing on Sunday!
Gavin Scullion rose to the occasion again and headed out at 9:40pm on Saturday night and walked 13.03 miles, leaving him back home shortly after 1:00am. This set the bar high for the rest of the team and at first light Séan, Barry and Damian got their walking shoes on and set off adding a combined 45 miles. Some of the other guys blitzed the remaining few miles but they had a feeling it was too late! Reports were coming in that another team had crossed the finish line, but had they? Despite having all their cycle miles reached on Saturday, they mustn't have told George as he headed out and clocked his longest cycle of 21.4 miles, pity they didn't count!
Damian wanted to award Gavin Scullion with Athlete of the Challenge for his team after stacking up a phenomenal 168 miles! He was so impressed with the efforts of all his team members and now sits patiently waiting while the data is being analysed to see who will triumph!