Team John Up-Date: 555 Challenge
---
Thursday, 28 May 2020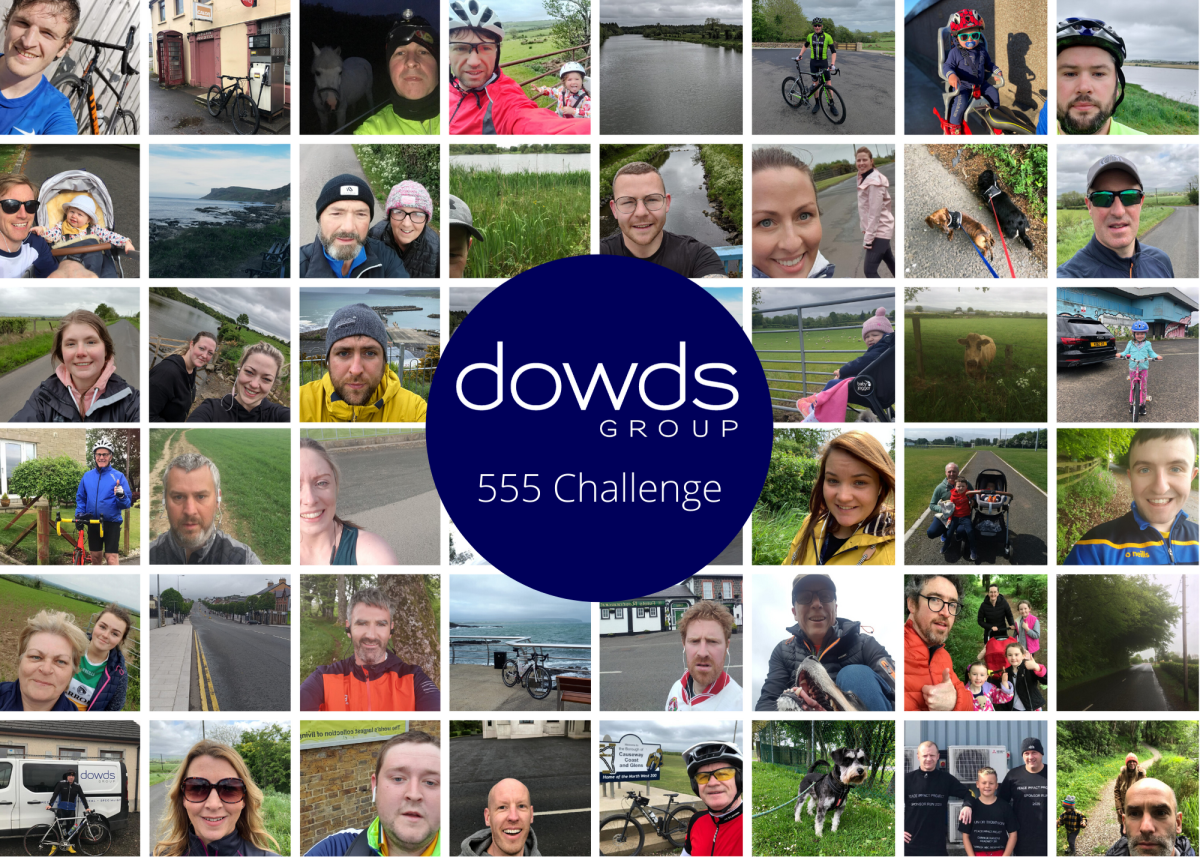 With the launch of our 555 Challenge on the Wednesday, the notifications started in Team John's WhatsApp group on Tuesday evening with David Porter, our Commercial Director announcing that he had injured himself and pulled a muscle! It wasn't a great start for the team but that didn't stop Jack Gourley being the first out on Wednesday morning at 7am to do a 4.34 mile run, quickly followed by Kevin Doherty at 8:30am
Wednesday evening also saw the start of the cycling miles with Bryan Armstrong, Kevin McNulty and Barry McAleese taking to the tarmac. Barry's miles were slightly tougher than they usually would be with him having a little passenger on the back of his bike chilling with sunglasses and a dummy! He was relaxed not breaking a sweat, Barry on the other hand was a different story! Martin Brogan, Jude McAllister, Cathaoir Heaney and Gemma O'Kane also headed out that evening, helping to clock up the miles for their team. By the end of the first day, Team John had made a good dent in the 555 miles with an amazing 160 miles in the bag.
Thursday saw the introduction of John J Dowds and David Coffey who proved his loyalty and commitment to his team by going out and doing something every day. Tiernan O'Mullan came under duress from his Line Manager Bryan and started off well with a downhill cycle after first getting a lift to the top of the hill. In true estimator style, he requested a spreadsheet on several occasions from John with the breakdown of everyone's miles to see how many miles he actually was going to have to do!
Everyone headed out on Thursday to help build up some more miles, however due to the overcast weather and the slim chance of getting his tan topped up, Jack Gourley decided to take a day of rest. Despite this, Jack did manage to win bragging rights for completing the longest run for his team with a 10 miler.
With the weather against everyone on Friday, Team John didn't allow this to stop them from getting out. David Porter made his return from the sub bench with a 10 mile walk around the Portstewart Coastline and Martin Kane joined the team to help them bank some more miles; John knew he was a secret weapon with his athleticism. Martin did get some stick however with his cycle on Friday that started at his own house and ended at someone else's'. He claims he had a hot whiskey and had to get left home and that it was absolutely nothing to do with that fact that he is currently out of training.
Also knocking out miles every day was our oldest and wisest team member Martin Brogan. His words of wisdom sent into the team WhatsApp to keep them motivated and happy and sometimes to just give them a laugh, "No cars, just the singing of the blackbird, robin, chaffinch, the squirrels gathering breakfast, the cows and horses resting at the ditch back, a grey but beautiful morning, counting my Blessings and giving thanks for the gift of you all and this new day, Stay safe on the roads and get out there and whip some ass."
The three ladies of the group clocked up an amazing near 50 miles, but unfortunately due to unknown circumstances though strong speculation of having a comfy bed, none of these miles were Kathryn McKendry's! She waited until the finish line had been crossed and the hard work was done before she headed out on a 5km walk on Sunday afternoon. Gemma O'Kane blasted miles out nearly every day even while she is on maternity leave with three beautiful kiddies. Carolyn wasn't far behind her with Maggie in toe taking scenic walks to see the local farm life. The jury is out as to whether Nicholas McKee has a secret boat that he goes fishing on as every walk, run or cycle is done over the five days, he always seemed to find himself along a river or piece of water!.
On the Saturday evening while everyone was enjoying a cold beverage, and Martin Brogan was enjoying his apple tart and cream, John McAllister realised his team were nearly at the finish line so there was an alert sent out to get the walking boots and bikes at the ready for the final push on Sunday
Bryan Armstrong got everyone up with his 6:44am morning text into the group chat, "who's up, let's get it done folks!" With final checks done on tire pressure and the brakes, the big guns John, Kevin McNulty, Bryan, Kevin Doherty and Martin Kane all went out in force to clock the final miles. Most of the other team members put in a final good shift to get them over the finish line before lunch. Now it's just a waiting game.
Kevin Doherty triumphed with most miles clocked in his team hitting nearly 120 miles! Bryan Armstrong was just pipped to the post following very closely behind him. Safe to say that Bryan's dog Barney is raging at him for not coming out top but is very glad that the challenge is over, and he can now be left in peace to do what a dog does best; sleep!
Captain John was over the moon at the efforts of all his team members and regardless of the outcome, feels that the mechanical, build and ladies team are the true winners!