Team Maura Up-Date: 555 Challenge
---
Tuesday, 26 May 2020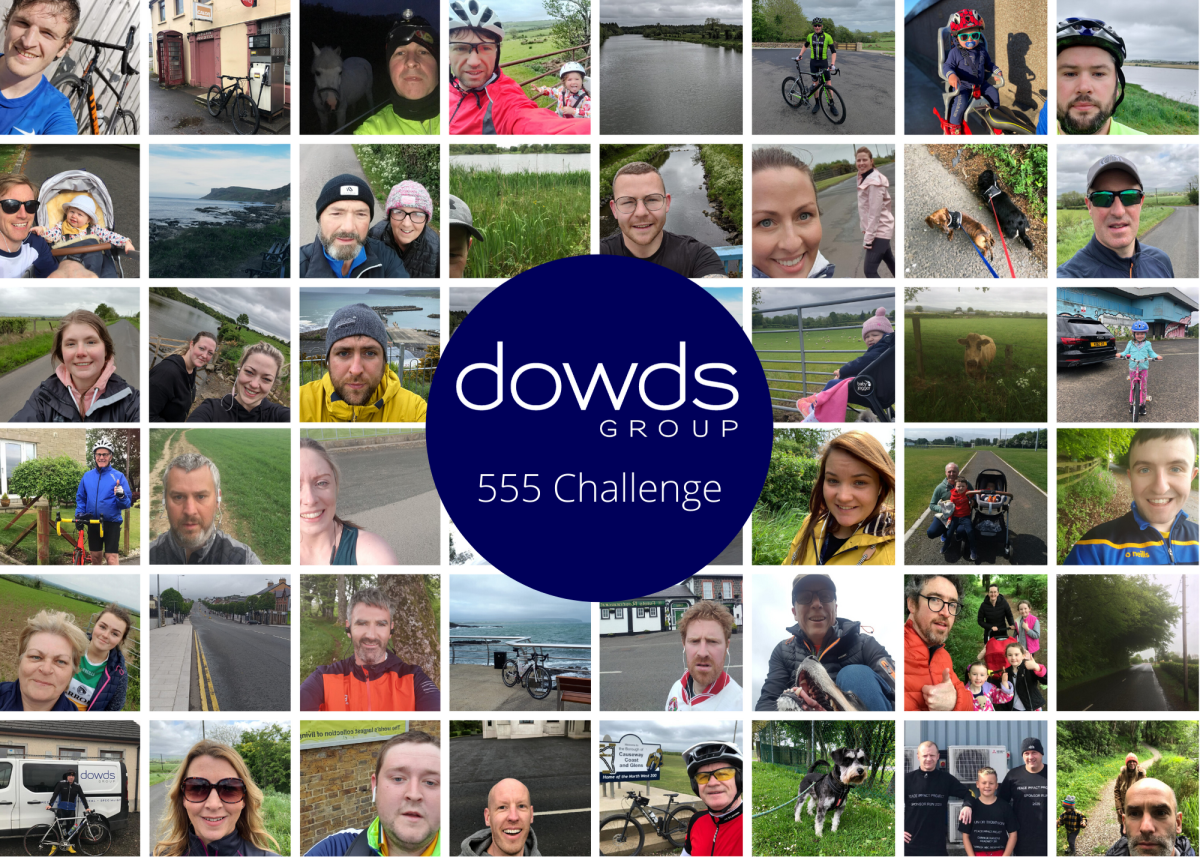 Team Maura started strong on Wednesday with nearly all their members going out for walk, run or cycle, some even doing both! Dowds Group's and Team Maura's very own Action Man Liam Doherty cycled to work on Thursday morning clocking 32.43 miles for his team, understandably, he decided to get a lift back home! Michael Mahon went out especially for the challenge and bought himself a new bike, aside from having a very sore behind for a few days, he managed to cycle his way to 21.71 miles. Our own Divisional Director Nigel Connolly ended up walking the little legs off his dachshund dogs who surprisingly were not all that keen and ended up taking huff with him.
With Team Maura placing second in the Friday up-date, they did not let the weather stop them from trying to catch up to the current leaders at the time, Team Damian. With a bit of friendly banter between Team Maura and Team Damian, she was determined not to let her team be beaten. Despite the weather, Maura and some of her teammates managed to add a further 99.28 miles to the overall total, with cycled miles from Allan Guthrie, Ryan Alexander, Neale Archibald, Liam Doherty and Jonnie Boreland.
Saturday saw Colin Finlay considering a move back to high level football after he surprised himself and ran 5 miles for his team! James Thompson along with his son ran from our Belfast office in Dargan Crescent to Carrickfergus in a joint effort for our 555 challenge and his local Peace Project Fundraiser! Despite cycling 32.9 miles for his team, captain Maura claims that Allan Guthrie did not clock any walking miles, except to get 20 Kit-Kats from the fridge. Momentum continued on Saturday with Davy Gordon doing his longest run of 7.46 miles in an impressive time of 1 hour and 1 minute! Mark Lagan and Johnnie Millar despite injuries still managed to clock up 30.76 miles between them even if it was around a golf course!
Competition within their own team was soon apparent once captain Maura highlighted than Ryan Doak was sitting on more miles than Liam Doherty. Jonnie Boreland got in on the competition too, putting a big push on both his cycling and walking, beating Ryan to second place, but just being pipped at the post by Liam with only 5.6 miles between them. Team Maura had to put their internal competition to the side if they wanted to be within the chance of beating the other three teams. Aside from Jonnie's weird contributions to the team WhatsApp, the Sunday plan was agreed to get out early and clock the remaining miles, however controversy arose within the captains when Ivan Dunlop was questioned about a cycle that he had recorded as a run, turns out not even Ivan can run 32 miles in 2 hours 20 minutes!
Stephen O'Neill who is just recently joined the company and Kyle Moore both put their equal shifts in throughout the 5 days helping to clock up the miles for their team. Captain Maura claims that they would have reached the finish line a lot sooner on Sunday if Neale Archibald had not decided to make a batch of pancakes before doing his cycle. Safe to say Maura let him know about it! Can we all keep an eye out for Michael Church as we have just discovered that he is still walking!
Team Captain Maura was delighted with the efforts of her team and is apparently confirmed to be the best and most inspirational team captain; however, her sources are questionable!