2017 CEF Finalists Announced
---
Monday, 10 July 2017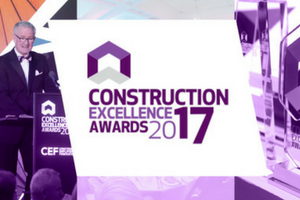 The finalists for 2017 CEF Construction Excellence Awards have been announced and amongst them are three outstanding Dowds projects.
The fit-out of Dunnes Flagship store in Forestside Shopping Centre has saw Graham Interior Fit-Out shortlisted in the 'Fit-Out Award' category. Our Integrated Services team worked closely with Grahams providing the Mechanical & Electrical installations on the refurbished store. The project for Dunnes comprise the phased enabling, alterations and refurbishment works to the existing department store including the complete refurbishment of the front of house shop floor areas and alterations and extensions to the existing back of house areas.
McLaughlin and Harvey have earned a double nomination for the 'Health Infrastructure Award' as main contractors on both the new Radiotherapy Unit at Altnagelvin and the new Omagh Hospital and Primary Care Complex. Dowds Group were employed on both of these high profile schemes.
Dowds acted as the electrical contractor on the £105m Omagh Hospital, responsible for all electrical installations on the huge 22,900 sq m complex. The highly serviced nature of the project involved a number of specialist installations including high-end HV equipment to service 4no HV departments and sophisticated M&E services for the Central Sterile Services Department (CSSD), an integrated room that performs disinfection on medical devices, equipment and consumables, necessitating a highly sterile environment.
In addition, we also assumed responsibility for the £11m+ M&E contract on the new Radiotherapy Unit at Altnagelvin Hospital, which is already changing the life of thousands of cancer patients in the North West. The unit consists of a 6 floor structure with services, a plant area, car parking for staff and patients, ambulance drop of point, Electrical LV and HV rooms, a new Radiotherapy unit with Linear Accelerator Bunkers and MRI scanner suites, refurbished and extended Chemotherapy area, Radiotherapy Bed area, admin area and roof top plant rooms.
To read more on the 2017 CEF Awards follow the link below:
https://www.cefni.co.uk/news/finalists-announced-in-2017-construction-excellence-awards
We'd like to wish Graham Interior Fit-Out and McLaughlin & Harvey good luck for the final on 13th September 2017.