Brian Takes on Mont Blanc Summit
---
Wednesday, 24 August 2022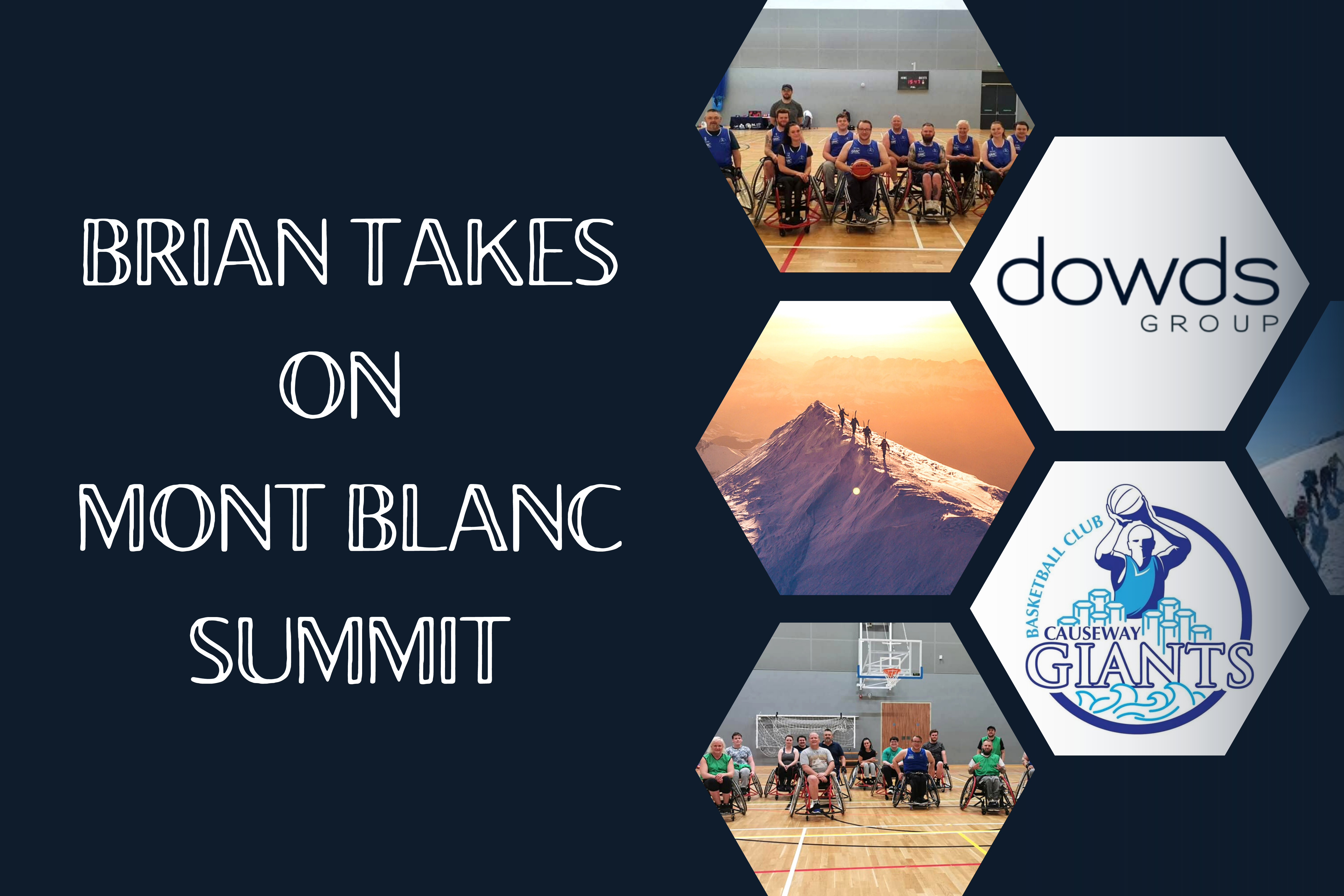 One of our Directors, Brian Cunning, has headed off on his travels today to France where over the next week he will begin his attempt to summit the renowned Mont Blanc - Western Europe's tallest peak standing at 15,773 feet.
Moving out of his comfort zone and pushing his boundaries, Brian will also be raising awareness and funds for Causeway Giants Wheelchair Basketball Team.
Ryan Archibald, local Ballymoney man, was a founding member of the Causeway Giants in 2018. Ryan trains at Ulster University Coleraine with the ever-growing team which is open to both those with a disability or able-bodied.
Ryan is also a successful Olympic Swimmer, having won Bronze for Team Ireland in the 2007 Shanghai Paralympics. He is a very determined athlete, being involved not only in basketball but also in table tennis, swimming and in the past playing for the NI Cerebral Palsy football team. Ryan really enjoys the competitive element of sport and finds the social aspect, where he can meet new people, every bit as rewarding.
This was one the main catalysts for him starting The Causeway Giants, coupled with the fact that Ryan had to travel to Antrim to play basketball with the Belfast Knights, at considerable expense to himself. Establishing the Giants now sees Ryan and his teammates in direct competition with the Knights and is helping with the league's expansion, all of which provides greater opportunity for budding athletes in the local area.
Any funds raised will go towards purchasing the necessary equipment to help individual club members reach their full potential and promote Causeway Giant's success within the local community and beyond.
To donate and read more about Ryan and the team please follow the link - https://www.gofundme.com/f/brian-takes-on-mont-blanc-summit
𝗞𝗲𝗲𝗽 𝘆𝗼𝘂𝗿 𝗲𝘆𝗲𝘀 𝗽𝗲𝗲𝗹𝗲𝗱 𝗼𝘃𝗲𝗿 𝘁𝗵𝗲 𝗻𝗲𝘅𝘁 𝘄𝗲𝗲𝗸 𝗮𝘀 𝘄𝗲 𝗽𝗼𝘀𝘁 𝘂𝗽𝗱𝗮𝘁𝗲𝘀 𝗼𝗻 𝗕𝗿𝗶𝗮𝗻'𝘀 𝗰𝗹𝗶𝗺𝗯 𝗮𝗻𝗱 𝗮𝗹𝘀𝗼 𝘀𝗼𝗺𝗲 𝘃𝗲𝗿𝘆 𝗲𝘅𝗰𝗶𝘁𝗶𝗻𝗴 𝗻𝗲𝘄𝘀 𝗳𝗼𝗿 𝗗𝗼𝘄𝗱𝘀 𝗚𝗿𝗼𝘂𝗽 👀🌟🆕