Bright sparks complete BS 7671 2018; 18th Edition Wiring Regulations Course
---
Monday, 17 September 2018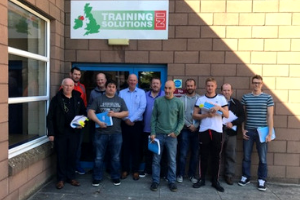 Recently, a number of our electricians successfully completed the 18th Edition Wiring Regulations course held by Training Solutions NI in Antrim. The course is aimed at practising electricians with relevant experience to update and enhance their understanding of IEEE Wiring Regulations. It is intended to ensure individuals are conversant with the format, content, and application of the Requirements for Electrical Installations BS 7671 2018; 18th Edition Wiring Regulations. The course was spread across 3 full days and concludes with an open book online examination.
Delivered by the exceptional Mr Lyle Dunn MIET MIFPO:
It was a privilege to guide the guys from Dowds Group through their recent BS7671 2018 course. As an instructor, I have three simple objectives on this course, the first of which is to assist the candidate in being thoroughly prepared for the reasonably searching assessment. That particular task was made so much easier by a class populated by experienced electricians who showed interest and who were obviously prepared to work hard over three days of intensive training, not to mention homework! Objective number one was achieved with a 100% successful outcome in the exam The second objective is to make the training as worthwhile as possible. This requires as much from the candidates as it does from the tutor and it was great to see the lads get involved especially in the many technical changes that the 18th Edition has introduced. Objective number two achieved!
The third objective might be regarded as the most important of the three. This is simply for all involved in the course to enjoy the time together. I can honestly say that it was a pleasure to provide tutorial support to such a grand group of lads. So from my perspective at least, objective number three achieved!
I am confident that Dowds Group have a team of first class electricians who are now fully up to date with the latest national standard for electrical installations. I wish both them and Dowds Group every success in the future.
We would like to especially thank Mr Lyle Dunn for delivering the course to our electricians and extend our thanks to Training Solutions NI for organising and running 3 successful days of training for our group as always!