Bryan completes The Crossing!
---
Thursday, 16 August 2018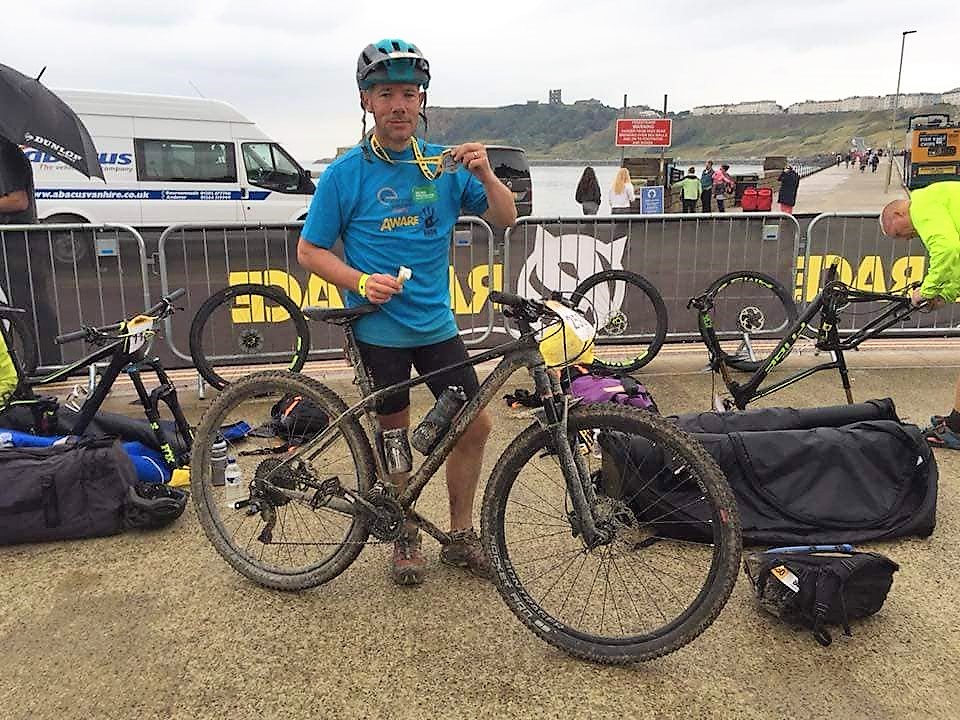 We are delighted to announce after three long tough days Bryan is home safe and sound after successfully completing 'The Crossing' challenge in aid of our 40 for Forty campaign!
Read his account of the event below:
"Day 1 saw a 7am start leaving Whitehaven and after a tough 5 hours of non-stop torrential rain into the lake district, the sun came out just in time for a major mountain hike where the decision for all riders was whether it was easier to push or carry the bike! The long downhill sections more than compensated though. I was glad to see the campsite and get the first day under the belt.
Day 2 with 72 miles ahead to travel across The Yorkshire Dales from Shap to Northallerton – this day was the longest distance in the saddle. There was a fantastic mix of single track, rocky trails and some big tarmac climbs into the moors. The food stop was welcome, the sun finally came out but the heat from the sun added more of a challenge to the uphill climb before ascending into grassy fields! After trekking across the fields I re-joined the roads that lead over to Kirkby Stephen and up into the Yorkshire Dales.
After the final night's rest in the Rat Race camp, Day 3 arrived with 60 miles left to complete cycling across The North Yorkshire Moors from Northallerton to Scarborough. At this stage of the game I was definitely feeling the physical strain from the last 2 days but with the end in sight the adrenaline kicked in for a final push . The route delivered wonderful sections of moorland, woodland tracks, quiet lanes and short descents before leading into Scarborough North Bay to the long awaited finish line!
Luckily I didn't experience any punctures during any part of the route, but had to accept that being on a hard tail bike, the terrain took its toll as the last 90 miles were spent listening to a grinding / squealing rear wheel bearing which gave out.
Overall this was a truly memorable challenge and the event itself was very well organised by Rat Race HQ between the bag shuttling, excellent way marking, the food and campsites at each of the start, overnight and finishing stops."
A massive well done to you Bryan, we are all very proud of your achievement and glad to welcome you back home safe!
If you would like to show your appreciation for Bryan's efforts please visit the link below – Bryan's Virgin Money Giving page is still live so any donation (no amount is too small or large) will be greatly appreciated!
https://uk.virginmoneygiving.com/DowdsGroup40Forty