Building Better Healthcare
---
Thursday, 10 February 2022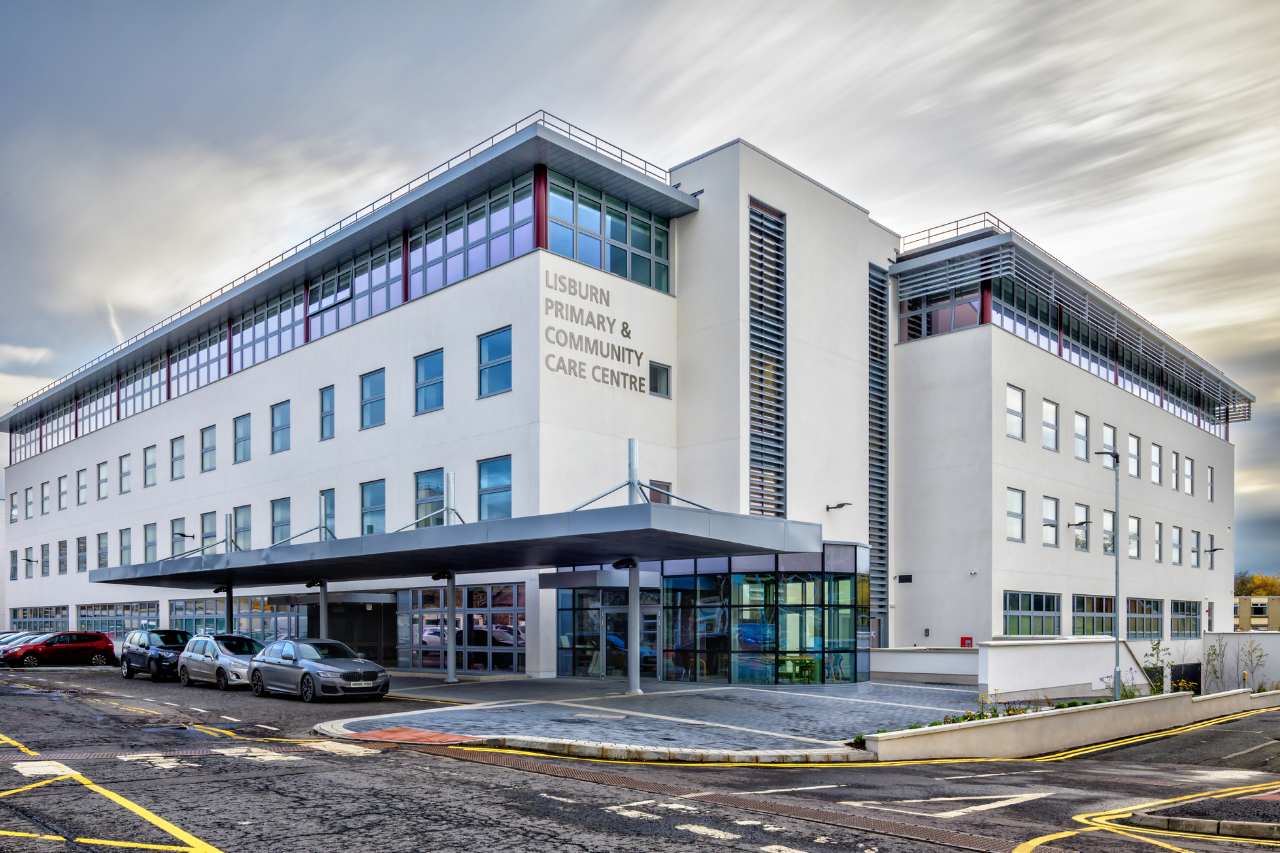 Dowds Group are delighted to be the major supply chain partner to OHMG in the design and build of the Lisburn Primary Care Complex. The new state of the art healthcare facility is a natural extension to existing Lagan Valley Hospital services, operating as an everyday medical centre to meet the needs of the local community. Dowds Group designed and constructed the Mechanical and Electrical Engineering Services to the latest HTM & British Standards meeting the requirements demanded of acute hospital facilities in Northern Ireland.
Comprising four floors, this complex provides GP consultation rooms, medical treatment facilities, dentalcare clinics, administration facilities, basement mechanical & electrical plantrooms housing boiler plant, specialist medical gas, electrical switch rooms, HV substation and roof top plant deck comprising HVAC and Photovoltaic Array, sized to help the project meet sustainability targets. In addition, all services associated with the adjoining newbuild multi-storey carpark.
Given that the construction of this project was alongside Lagan Valley Hospital's designated Blue Light Emergency Route, managing the deliveries of general materials and significant plant lifts, required close liaison with OHMG and the Trust, to ensure that we did not compromise this vital route in any way or at any time.
With the Dowds Group team being a major part of the onsite work force, we faced significant disruption with the emergence and onslaught of the Covid-19 global pandemic. Contracts Director, Brian Cunning, commended the Dowds team saying, "Our management team rose to the challenge, working closely with OHMG to mitigate the disruption wherever possible and by working through new sequences of construction we ensured the project kept on track." Brian explained, "Our many specialist manufacturers and suppliers were impacted by working from home restrictions. This resulted in the prolongation of lead times on various items of plant which we subsequently factored into the resequencing of our work, thus ensuring we maintained progress and achieved programme targets."
As with all major healthcare projects, extensive detailed co-ordination was essential due to restricted ceiling voids, therefore Dowds Group employed the use of Revit modelling to assist in the co-ordination process in conjunction with OHMG.
In addition to standard installs such as general and emergency lighting, fire alarm, general power and heating, the complex building services installation also comprises medical gas, data, medical & FM networks, medical inspection lighting, intelligent fire & smoke damper system, Air conditioning, ventilation, electrically operated window systems, BEMS, staff alert, access control, CCTV and security systems all fully integrated and monitored by the Lagan Valley Hospital & South-Eastern Trust.
Brian concluded "Our journey through to successful completion of Lisburn PCCC further enhances the reputation of Dowds Group as one of the leading Building Services contractors in the healthcare sector."