Dowds "Lighting" the Way for the Future!
---
Thursday, 2 January 2020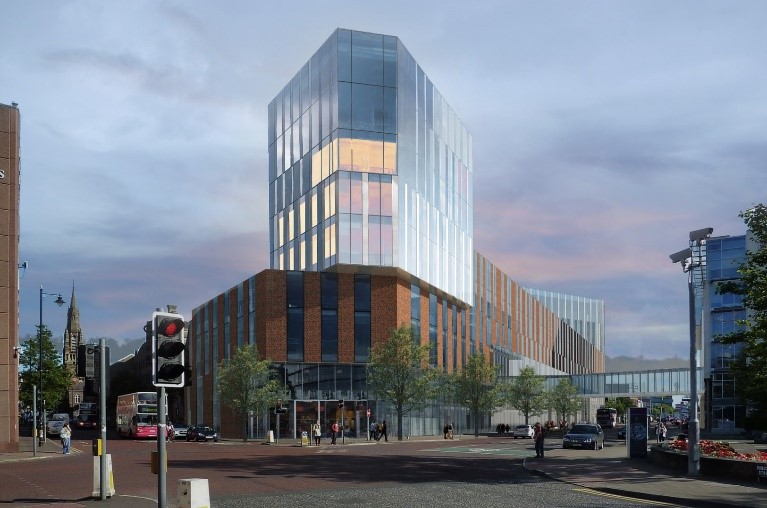 Dowds Group have officially confirmed the electrical works for the newly enhanced Ulster University, Belfast campus. This inner-city regeneration project involves the creation of a 75,000 sqm campus which will hold up to 15,000 students and staff.
The electrical installation for this project is one of Dowds Group's largest projects to date at a staggering £22M. We have over 100 employees onsite and this isn't including the specialist sub-contractors that we employ. It is a high-spec design and build project comprising of blocks BC and BD.
This project incorporates 15 storeys with 2 storeys being below ground level. There will be 150 classrooms ranging from seminar rooms to large flat floor lecture theatres. A library and student hub space will be embedded into the facilities to promote learning outside the lectures. Ground floor and library will be publicly accessible and will contain catering facilities, gallery and lecture theatres. The Electrical Services Installation include; High voltage ring including HV transformers, fire detection systems incorporating voice alarm and assistance call systems, standby generator system and UPS system, general/emergency lighting & intelligent lighting control, door access, intercoms and intruder alarm systems, CAT 7 -IT installations, IP CCTV system, energy monitoring, rising bus bar and underfloor busbars, public address and induction loops and BMS installation.
This is a very challenging and demanding project along with a very tight programme, installation. We are due to finish all work by December 2020.