Only 3 Days to go until Ógie reaches Everest Base Camp!
---
Tuesday, 17 April 2018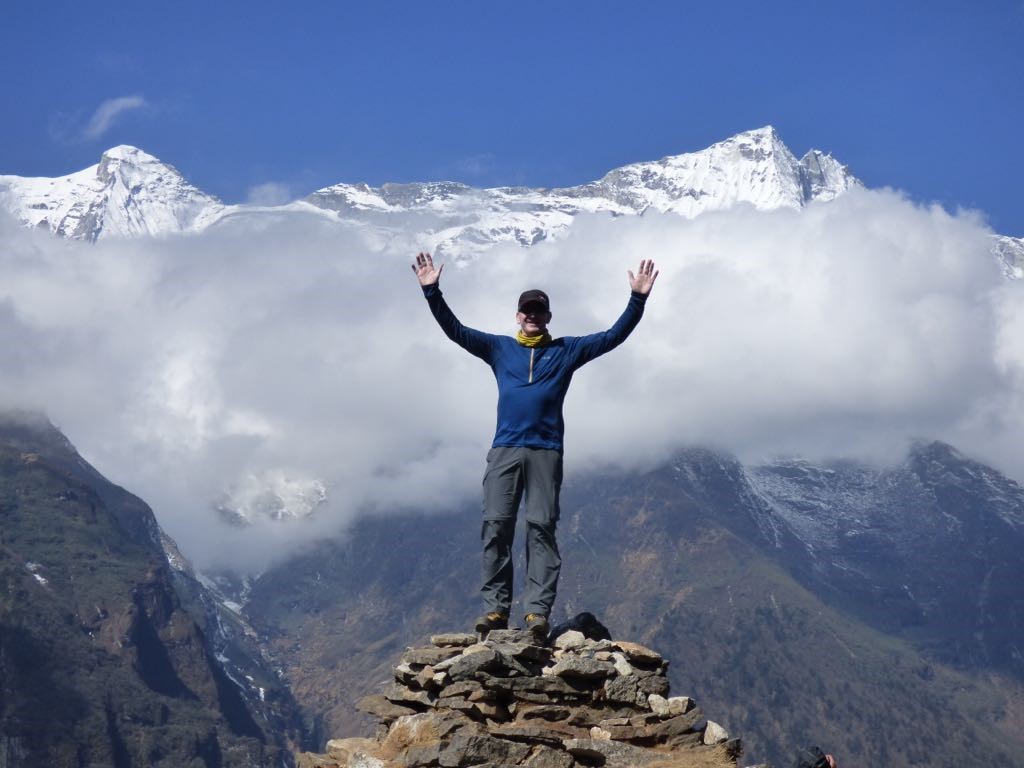 Ógie landed safely in Kathmandu on Tuesday 10th April after flying 7 hours to Dubai then onward 5 hours to Kathmandu. After a day of exploring on Wednesday and an informative evening with a full trek briefing he got a good night's rest for what would be an early start the next morning to begin his Everest Base Camp Trek Challenge on Thursday 12th April!
Day 1 for Ógie involved flying into the world's most dangerous airport in Lukla, with a mountain runway strip of only 2800m. Once safely landed he and the expedition team set off on the first leg of the trek towards the small town of Phakding and witnessed spectacular views on route! After a night's rest in Phakding, on Day 2 he began his ascend to Namche Bazaar with time to explore the Sherpa capital – it is a town full of trekkers, coffee shops, bakeries and stores, and there was even an Irish Bar in the middle of it all!
The morning of Day 3 began with a steep climb out of Namche Bazaar towards the Everest View Hotel, Ógie reached the highpoint of his day at 3880m with his first breathtaking views of Everest! He then descended towards the town of Khumjung, where he handed over stationary supplies to a teacher at Sir Edmund Hillary School, and visited the Edmund Hillary Hospital in Kunde. After descending to the main trail he spent the night in Kyanjuma at a sleeping altitude of 3600m!
Ógie woke up to a beautiful sunrise on Day 4 with spectacular views of Everest in the background, he then trekked onwards to arrive at Thyangboche at 3867m to set up in a very basic tea house. He got the opportunity to stop at the Thyangboche temple which is where all Everest Mountaineers are blessed before trekking further.
After spending the night in Thyangboche, Day 5 commenced and trekking began for Ógie to Dingboche at 4450m. He and the expedition team descended through the forest and across valleys entering Pangboche. After a short lunch in Khumbu he trekked onwards across a wooden bridge then steeply climbed up into Dingboche at 4530m, where he would rest up for the night in a sleeping altitude of 4350m.
Day 6 for Ógie has involved spending the day in Dingboche to allow all the mountaineers time to acclimatise as they have now reached 4800m. At this point, Ógie is still feeling good but there are fears now setting in that the altitude symptoms will begin kicking in tonight whilst sleeping at a very high altitude and trekking tomorrow to 5000m!
It's only THREE days until Ógie reaches Everest Base Camp on Friday! Don't forget you can still donate to our '40 for Forty' campaign and support Ógie on his courageous challenge at: https://uk.virginmoneygiving.com/fund…/showROFundraiserPage… any donation will go a long way for our four selected charities!