Q&A with...Aleks Afanasjev
---
Tuesday, 25 January 2022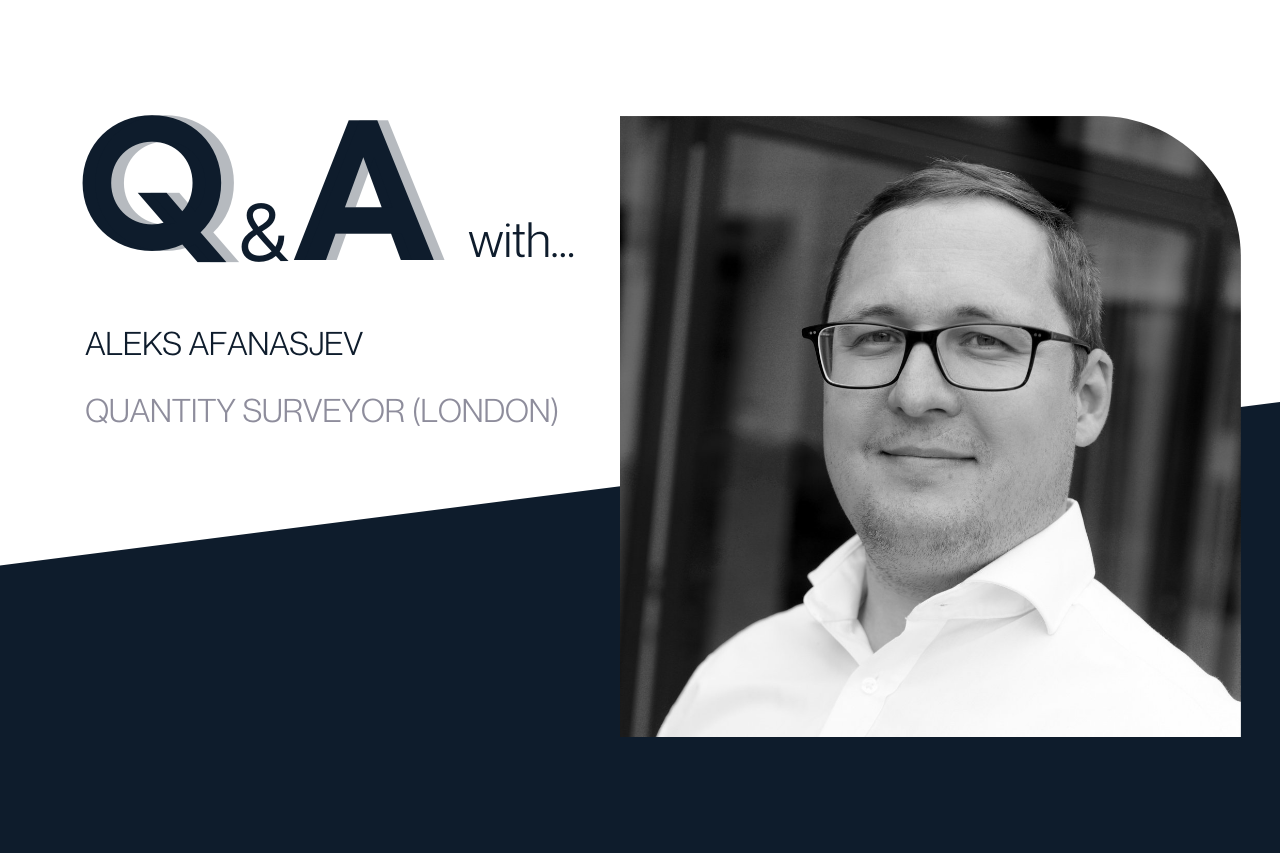 Our team makes Dowds what it is – something that has not changed since our incorporation over forty years ago. We take any opportunity to talk about our team, and we recently sat down with Quantity Surveyor Aleks Afanasjev, who has been part of our London team for the past two years.
With a knack for making complex projects simple, the Dowds team has a reputation for interrogating design and understanding the interfaces that M&E has with other elements on a project. Aleks gave us an insight into what keeps him and the London team so busy.

Tell us a bit about your current role.
I am a quantity surveyor in the Dowds London team, and I am currently based on two projects. One is the prestigious Museum in London, and the other is the brand-new technical college project for Lambeth College at Nine Elms.

How has your career progressed, and how did you get into construction?
I began my career as a pipe fitter installer on site. I was offered a position in the office, which led to a role as a quantity surveyor. I have been in the industry for over 15 years, and in that time, I have worked for several different companies, including Main Contractor and M&E Contractors.

What do you think are the current issues affecting the construction industry?
Covid has, of course, made things more challenging over the past couple of years. And we are seeing the impact of Brexit that is putting a strain on the construction industry– both in terms of skilled labour and availability of materials this being the market cost increases or the lead time for the products from abroad. Nevertheless, the industry is extremely busy and continues to build momentum while thriving in these difficult times.

What advice would you give to someone looking to get into the construction industry? What type of skills or attributes do you think you need to have to succeed?
The role of the quantity surveyor is often misunderstood. It is a varied role that requires different skills –good commercial skills are necessary. But skills such as project management, cost control, contract management skills are all essential. It is a role where you need to be methodical and organised and have an eye for details – challenging but immensely enjoyable. The advice I would like to give would be to go through the apprenticeship route as in my opinion this will give you a practical experience that will give you valuable industry experience that will develop alongside the more formal study.

And for you personally, what do you enjoy about working at Dowds?
I love the approach within Dowds. Whenever there is a problem, instead of blaming someone, there is a genuine effort to help sort the issue out and produce a solution from the management team. I always feel like I can get the help. The directors are very visible, and despite the growth over the last several years, the company has managed to keep the personal touch at the forefront of its approach.