Q&A with...Matt Bilding
---
Friday, 8 October 2021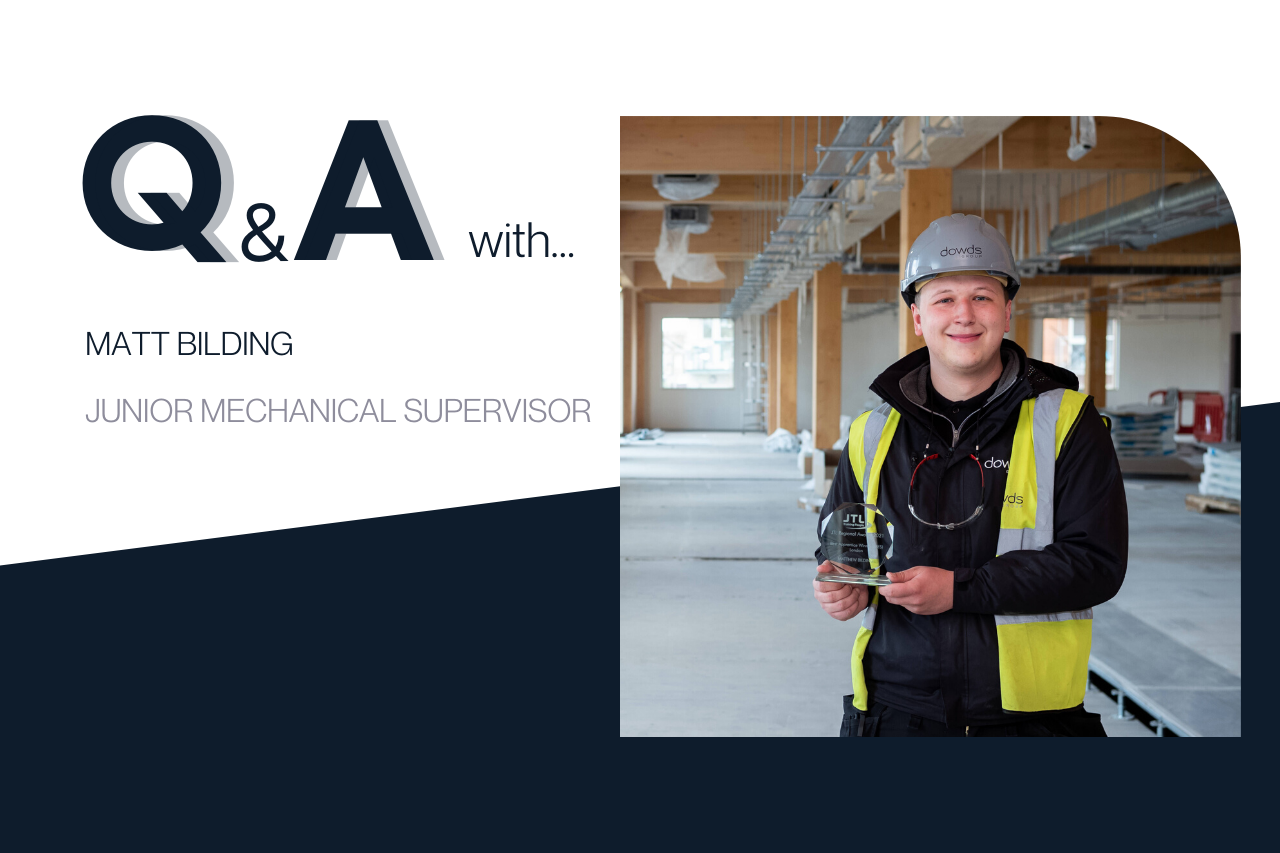 It's our team that makes Dowds what it is – something that hasn't changed since our incorporation over forty years ago. We take any opportunity to talk about our team, and we recently sat down with Junior Mechanical Supervisor Matt Bilding who is part of our London team.
Matt joined the Dowds apprenticeship scheme five years ago and after completing the programme this year, Matt has been promoted to Junior Mechanical Supervisor. Matt was recently awarded the JTL Apprentice of the Year Regional Award 2021 (Mechanical Engineering Services) for the London region. Dowds is proud of our low attrition rate and the number of long-standing staff we have. We believe our commitment to training and the opportunity our staff have to progress their careers is one of the key factors that is responsible for keeping people at Dowds – investing in apprenticeship schemes all the way to senior leadership programmes.
With a knack for making complex projects simple, the Dowds team has a reputation for interrogating design and understand the interfaces that M&E has with other elements on a project. With in-house design management, BIM, and engineering capacity, the team can assist clients throughout the lifecycle of the project, from feasibility to aftercare. Matt shared an update on what is keeping him and the London team busy.
What project are you currently involved in?
I'm currently working on the Old Gramophone Works project in Northwest London. Overlooking the Grand Union Canal, it's a new workplace development that has been designed with innovation and sustainability at the heart of it. The Dowds team is involved in the Cat A and Cat B fit-out works, it's fascinating to be part of it.
How has your career progressed at Dowds?
I joined the apprenticeship scheme five years ago which has been challenging but extremely rewarding. Having the balance between course work and practical, hands on experience is a great way to get into the construction industry – it offers the best of both worlds. Since completing the project, I have been promoted to Junior Mechanical Supervisor.
What are some of the other projects you've been involved with?
It has been varied! I've worked on a number of education projects, commercial developments and even the mock up of 7 star hotel room – never a dull moment!
What advice would you give to someone looking to get into the construction industry? What type of skills or attributes do you think you need to have to succeed?
I don't think people realise that there are so many different roles available in the construction industry so it's worth doing the research to see what opportunities there are. You need to be willing to work hard, learn ... and also be able to have a laugh!
And for you personally, what do you enjoy about working at Dowds?
Dowds is a great place to work. It sounds like a cliché but it is really like a big family – there is always something fun to get involved in so it's not just work, work, work all the time. The level of support from managers and the rest of the team has made this first part of my career enjoyable and I foresee a long career in the industry ahead!