Success keeps flowing for 1st year Plumbing Apprentice, Abigail!
---
Wednesday, 16 May 2018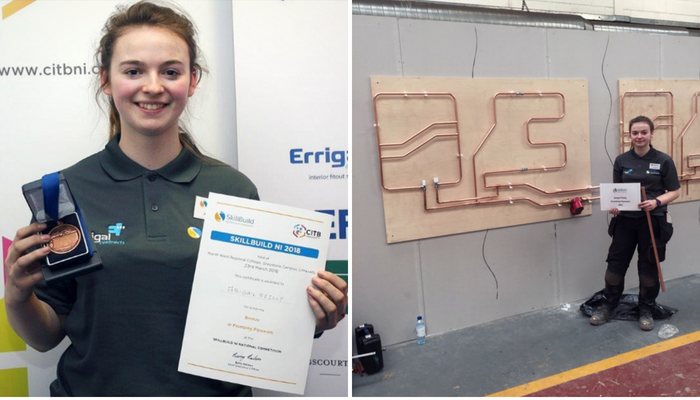 Following Abigail's success at the SkillBuild Pipework competition held in Newtownabbey, she was entered into the Northern Ireland regional final of the competition. Abigail was very successful at this competition held in NWRC Limavady Campus in March, as she was the winner of the Bronze Medal. The judges were extremely impressed with the skills she held for only being in the first year of her apprenticeship as many of the competing candidates were in their 3rd and 4th years. Abigail kept her nerves at bay and has done herself, Dowds Group and the Northern Regional College very proud!
Abigail was then invited to take part in a Facebook live streaming interview by BBC Northern Ireland who were promoting apprenticeships in March, as well as being interviewed on the radio by the Mark Patterson Show to mark International Women's Day. Both of these opportunities allowed Abigail to express her drive behind starting an apprenticeship and her ambitions for the future.
Leading on from this, Abigail and her fellow apprentices who excelled in the NI SkillBuild finals were invited to have tea with the Mayor of Causeway Coast and Glens Borough Council Councillor, Joan Baird OBE, in April. Joan Baird quoted: 'Apprenticeship schemes offer important opportunities for our young people, allowing them to gain qualifications while putting their skills to use in the workplace. Samuel and Abigail are fantastic role models and I hope their success encourages others to take advantage of the apprenticeships that exist across the Causeway Coast and Glens.'
We cannot echo enough the importance of this statement in that apprenticeships are a great opportunity and pathway into entering the construction industry to build a career, where you are earning whilst learning on the job and gaining the appropriate experience needed to succeed.
If you would like to find out more about apprenticeship pathways from apprentices themselves click here to watch the interview carried out by BBC NI: https://www.facebook.com/BBCNI/videos/