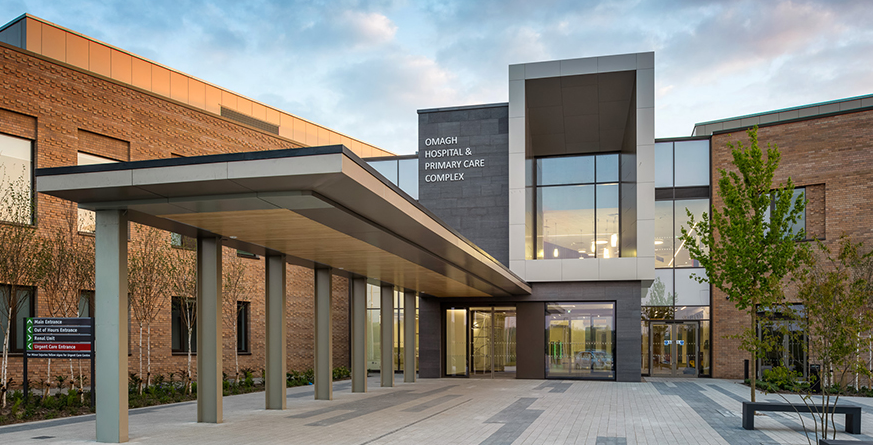 Successfully handed over in April 2017, Dowds managed the electrical contract of this was a complete new-build, state-of-the-art hospital – it has been our largest solely electrical contract to date and one of the largest public sector construction projects within Northern Ireland in recent years. We are extremely proud to have been integral in providing a new facility that has set a bench mark for healthcare in Northern Ireland.
The colossal 22,900 sq m complex is set on a brownfield site and hosts a range of co-located services under the one roof. This entire hospital is newly built and consists of 6 blocks housing services including a 40 single en-suite bedrooms unit for in-patients for Rehabilitation and Palliative Care patients, a 24 place renal dialysis unit, a Health and Care Centre including modern GP practices and an Urgent Care and Treatment Centre. In addition it will also provide advanced diagnostic services including a CT scanner and endoscopy services. There are also 3 day surgery operating theatres and 22 recovery beds, specialised AHP, Women's & Family Health and Children's Services. The external areas consist of staff and visitors parking, play areas, viewing gardens and a Heli pad for emergency services. Such is the scale of the building that it required a purpose-built energy centre, complete with generators and CHP.
Works began on-site for Dowds Group in August 2015 with an initial skeleton staff, which grew to a team of approximately 120 site operatives. The new-build facility was fully operational within a week of handover which is testament to the expertise of the service providers involved in the project. Working alongside Main Contracts, McLaughlin & Harvey and Consultant Engineers, White Young Green (WYG), we were fully committed to the two and a half year project.
Due to the sheer magnitude of the project it is unlikely that any other electrical contractor in Northern Ireland would have had the specialist knowledge or years of expertise in healthcare installations that it took to successfully manage this electrical contract.