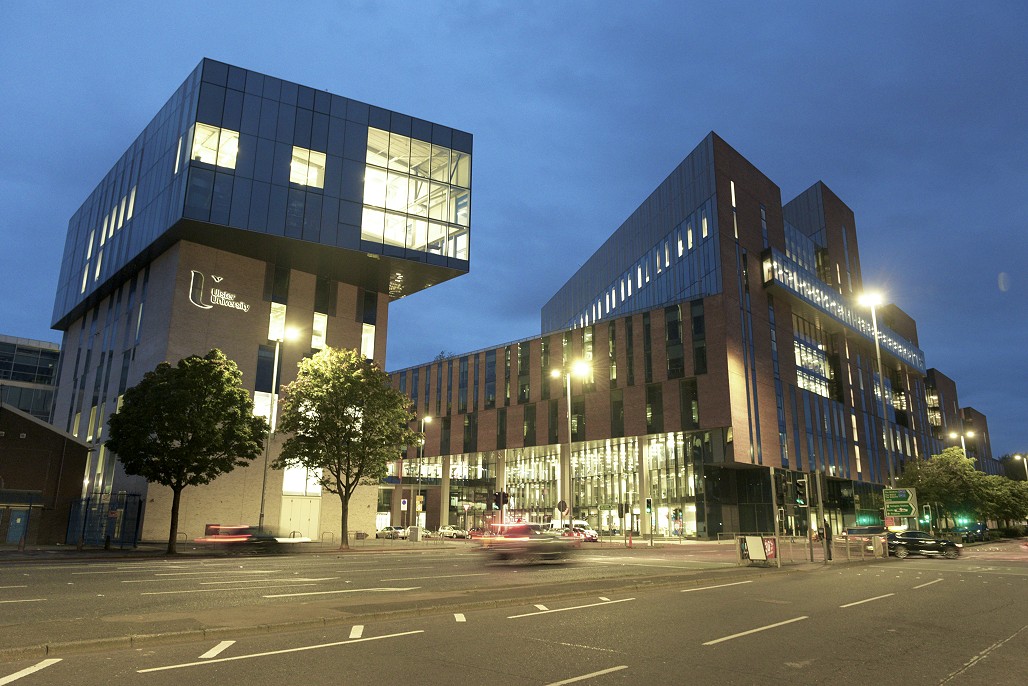 Dowds Building Services successfully completed the full £24M electrical package for the new Ulster University, Belfast campus. This contract is our largest electrical contract to date and has further enhanced our relationship with Ulster University. This prestigious new educational facility is circa 75,000M2 spread over 15 Levels, with 2 of the levels below ground housing the plantrooms.
Ulster University's new Belfast campus now houses approximately 15,000 students and staff and consists of a variety of learning, research, collaboration & breakout spaces, main kitchen catering facility, several cafeterias, along with 2 large lecture theatres, one which holds 350 Students and the other holding 250 students.
Our team of electrical operatives commenced works on this landmark project in July 2019. Due to the scale of the project our electrical team and supply chain grew to a total of 135 electrical operatives and 100 suppliers and subcontractors. Co-ordination of the electrical services was carried out by Sacyr's design team, with input from our Dowds site management and supervision team. We held regular meetings at the start of the project to ensure collaboration with all the other services.
Electrical Services Installed
The new Ulster University campus holds most if not all of the electrical systems typically found on a large university campus, however due to the scale of the project the quantity of materials were vastly larger and installations included:
- 1.5 million metres of cable - this length of cable would stretch the distance from Ulster University directly to Sacyr's HQ in Madrid!
- 12,454 General, Emergency & External Lights
- 12,035 General Small Power Outlets
- 5,759 Fire Alarms and PA/VA Systems Speakers
- 1,188 MFSD System Dampers
- 720 Access Control for Doors
- 3 Generators; 1no. 400KVA Generator & 2no. 250KVA Generators
Key Challenges & Complexities
Coordination & Supply Chain
Within Dowds, our engagement with clients, consultants, our supply chain, end-users and the public, centres around true partnering. We have the experience and skills required for collaboration to work effectively with an open, honest, approachable, flexible, transparent, and reliable workforce.
Due to the large scale and complexity of this project our supply chain included 84 suppliers and 16 labour subcontractors. Our contracts team ensured very close co-ordination was upheld with all suppliers and labour as all systems installed were networked together, along with the existing systems installed throughout the rest of the campus. Multiple interface meetings were held to resolve design and co-ordination matters on site with the client design monitoring team and managing the high volume of design changes.
In particular, G4S Fire Security was our largest sub-contractor with the most input, suppling and commissioning the Fire Alarm, Disabled Refuge and PA/VA systems. In addition to this they also supplied, installed, and commissioned the hard wired and Wireless Door Access Control System, CCTV, Video Intercom, Intruder Alarm, Traka Key Control System and Gas Suppression System.
Covid19
The impact of the pandemic from March 2020 onwards changed how we managed our workforce of 135 electrical operatives and additional supply chain labour. One-way systems were implemented on site and multiple tea and lunch break times were assigned to reduce contact. With regards to travel, our purchasing team procured additional vans for our fleet to accommodate less numbers travelling in one van. Additional PPE was provided to all teams which included wearing masks and ensuring all guidelines were followed to thoroughly wash hands and to take immediate action to follow the guidelines if any staff had Covid symptoms or a positive case was reported.
Logistics & Materials
Site logistics were a major challenge due to the location of the building site being in the city centre of Belfast meaning there was no room for site containers to manage materials. To overcome this challenge we worked closely with Sacyr to agree local drop off points for materials and had a well-organised call off system with our supply chain to ensure our workforce were constantly provided with materials when required and to avoid double handling of goods where possible.

Our Ulster University team completed the full electrical installations to an impeccable standard and worked admirably through the challenging conditions of the COVID19 pandemic.
Our Contracts Director, Damian McCamphill, responsible for the project would like to especially commend the contracts team who did a fantastic job coordinating the works and managing a workforce of over 100 operatives: Brian Worthington (Contracts Manager), Alan Meeke (Quantity Surveyor), David Murphy (Contracts Manager), Seamus Close (Contracts Manager), Stephen Heaney (Senior Contracts Supervisor), Conor Leeman, Colm McAllister, Paul McNaughton, Ryan Brewster, Mark Boreland (Supervisors) and Oran Watson (Contract Supervisor's Assistant).
Well done to the entire team and supply chain involved in Ulster University - this level of workmanship on this impressive project is an achievement and milestone to be proud of!